Why Canada ?
Canada's economic presentation
With a GDP of $2,204 billion in 2020 (€1,454 billion), Canada ranks 10th in the world among the richest countries. Like most countries, Canada experienced a severe recession in 2020, estimated at 5.4% of GDP following several years of moderate growth (3% in 2017, 1.9% in 2018 and 1.6% in 2019).
A federal state divided into 10 provinces and 3 very autonomous territories, the integration of the regions into economic activity remains very uneven since Ontario and Quebec, the two most economically dynamic provinces, alone contribute nearly 60% of Canada's GDP.
The country is highly integrated in world trade, having the 4th rate of openness among G20 countries (ahead of the United States) and pursuing a strategy of trade diversification through the signing of bilateral and plurilateral free trade agreements: CETA with the European Union, CUMSA (new agreement with Mexico and the United States) or CPTPP with Asian countries.
Canada's largest trading partner remains largely its American neighbour, the world's largest power.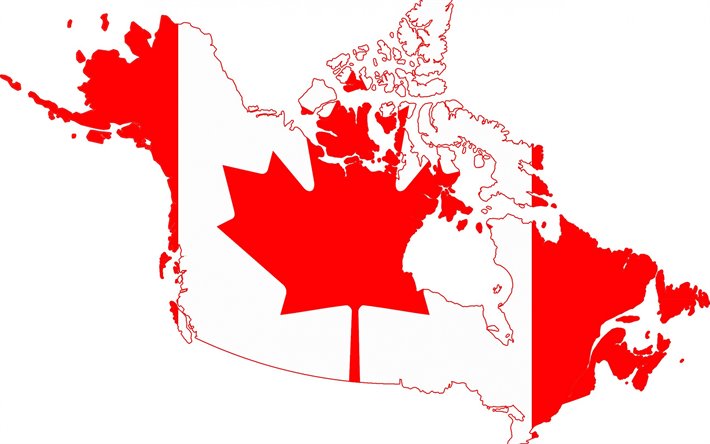 Why invest in Canada ?
- A Welcoming Business Climate — Canada is the best place to do business in the G20.

- A Top-Performing Economy — Over the past decade, Canada has led the G7 in economic growth.

- Unparalleled market access — With the Comprehensive Economic and Trade Agreement (CETA), foreign investors in Canada can benefit from guaranteed preferential access to the European Union (EU).
- A highly educated workforce — Among the members of the Organisation for Economic Co-operation and Development (OECD), Canada has the best educated workforce, with half of the Canadian workforce having completed tertiary education.
- Low business tax costs — Overall business tax costs in Canada are by far the lowest in the G7 and 46% lower than in the United States.

- A competitive R&D environment — Canada is the G7 country with the lowest business operating costs in R&D-intensive sectors. These costs are 15.8% lower than those in the United States.

- Financial stability — According to the World Economic Forum, Canada's banking system is ranked among the soundest in the world.
- A great place to invest, work and live — Canada is among the most multicultural countries in the world. It is home to world-class universities, a universal health care system and clean, welcoming cities. According to the OECD Better Life Index, Canada ranks first among G7 countries in terms of living conditions and overall quality of life.
Major trends in the economy
Canada's economy is developed and diversified. The main industries are real estate (14% of GDP), manufacturing (10%), finance and insurance (8%), mining and mining (8%), and construction (7%). The country has large natural resources enabling it to be a net exporter of energy: oil, zinc, aluminium, nickel and gold. These resources make the mining and extractive industry one of the main components of the country's economy.
Canada has a diversity of provinces and territories with different specializations and export streams. Agriculture is particularly represented in the central provinces (Manitoba, Saskatchewan, western Ontario), while industrial and technological sectors are more developed in the coastal provinces (Quebec and Ontario East, British Columbia West). Finally, some provinces, such as Alberta, Newfoundland and Labrador, and Saskatchewan, have significant energy resources and are concentrating their economic activity, including export activity, on this sector.
Given its small population, Canada frequently looks abroad to find new markets. Very open and integrated in world trade, Canada is still dependent on its trade with the United States: exports to its neighbour represented 73.5% of total Canadian exports in 2020, while 48.8% of Canadian imports came from the United States. The public authorities, anxious to reduce this dependence, therefore favour a geographical diversification with other partners such as the European Union (2nd partner with 10.8% of trade) and China (3rd partner with 9.5%). This diversification strategy includes the signing of bilateral and plurilateral free trade agreements. Canada is currently engaged in 14 of these agreements with 51 countries, the most important of which are CUMSA (signed in 2020 with Mexico and the United States), CETA (2017, with the European Union), CPTPP (2018, with many Pacific countries) or a trade continuity agreement with the United Kingdom.
The Canadian interprovincial trade situation is also relatively poorly integrated. Indeed, Canada is marked by the importance of non-tariff barriers (regulatory, administrative, linguistic) and a weakness in trade flows between its various provinces and territories. In 2017, intra-Canadian exports represented only 36% of the provinces' total exports: by comparison, intra-EU exports represented 59% of the total exports of EU Member States in 2019. In an effort to continue to liberalize interprovincial trade, the federal, provincial and territorial governments have concluded a Canadian Free Trade Agreement (CFTA) that came into force on July 1, 2017. This agreement aims to reduce barriers to the free movement of goods, services, investments and labour within Canada, as well as to establish better access to government procurement and greater regulatory cooperation.

Despite the Covid-19 crisis, the outlook for recovery seems to be confirmed for 2021. Prior to the crisis, estimates placed Canada on a relatively weak medium-term growth path (1.5%) due to external factors (weakness in global and especially American growth, lower commodity prices) and structural aspects of the Canadian economy such as an aging population, and low productivity reserves in some major sectors of the Canadian economy (energy, industry, agriculture).

Pandemic-related health restrictions led to a sharp drop in production and consumption in the first half of 2020, which is expected to result in a recession of about 5.8% of GDP. However, the Canadian government anticipates a rapid recovery in activity, with an expected rebound in growth of around 5% by the end of the year
Attractions and limits for french businesses
Large territory but small population:
More than 80% of Canada's population (38 million in 2021) is concentrated along the US border.
The population density is only 3.82 inhabitants/km (2021).

However, Canada is a gateway to a large market:
• America: USMCA represents a market of 450 million consumers (Canada, USA, Mexico)
• Asia: West Coast is heavily focused on Asia Pacific
• Europe: Canada-EU Comprehensive Economic and Trade Agreement (CETA) - Elimination of 90% tariffs - More harmonized regulations - Opening up government procurement.
• Quebec: Francophone gateway = 51% of GDP is exported, 70% of which to the United States
• Ranked 5th most attractive country for Foreign Direct Investment in 2017, behind the United States, Germany, Brazil and Great Britain (France = 7th)
• Executive Accessibility
• 99% of Canadian businesses are SMEs / 52% have fewer than 5 employees
Canada in a few numbers
Other areas of expertise include:
National Defence, Interprovincial and International Trade, Immigration, Banking and Monetary System, Criminal Law and Fisheries.
Organized in the same way as the federal government, provincial and territorial governments have jurisdiction over education, property and civil rights, the administration of justice, the hospital system, natural resources within their borders, social security, health care and municipal institutions.
The United Nations consistently ranks Canada as a country with the highest quality of life.
This ranking takes into account living standards, education of the population and life expectancy. Its progress towards excellence in the field of cultural creativity is explained by its multicultural and multidisciplinary population.
With a population of nearly 38 million, Canada welcomes more than 250,000 immigrants each year. It capitalizes on the diversity of their backgrounds and creativity, which continuously enriches Canadian culture and society.